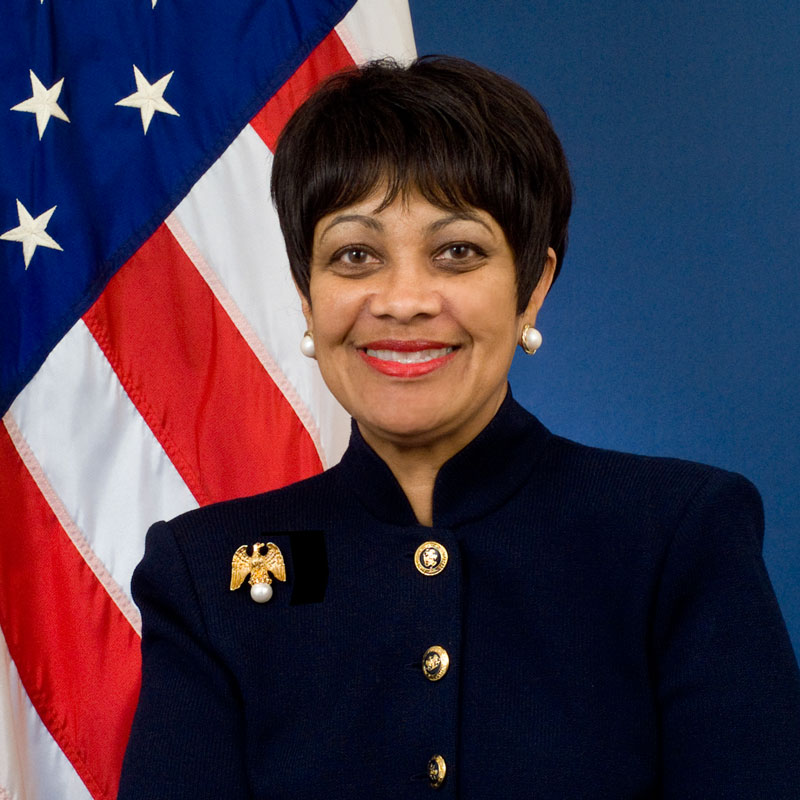 Linda Jacobs Washington is an Executive Leader with comprehensive private and public sector management, planning, and business experience encompassing all facets of organizational responsibilities.  She is a recognized expert in organizational/business management; strategic planning; and re-engineering processes, programs and organizations with focus on vision, mission accomplishment, guiding principles of diversity and inclusion, customer service and quality improvement.  Ms. Washington is highly successful in developing and implementing training programs to include team building, and has proven management experience in sales and marketing of products, services, and programs with a Fortune 500 company.  She has significant experience managing fee for service operations with profit and loss responsibility.
---
Linda Jacobs Washington is President and CEO of The Washington Consulting Team providing consulting services in the areas of executive coaching, leadership and management training, facilitation, organizational assessment, event planning, and fundraising.  She provides customized programs to meet each client's needs.
Ms. Washington most recently served as the Interim President & CEO of the Conference Of Minority Transportation Officials (COMTO), a 44 year old organization who's mission is to ensure a level playing field and maximum participation in the transportation industry for minority individuals, businesses and communities of color through advocacy, information sharing, training, education and professional development.
As the former Assistant Secretary for Administration at the U.S. Department of Transportation (DOT), Ms. Washington served as the principal advisor to the Secretary of Transportation on the organization and management of the DOT where she provided leadership in the delivery of centralized services to the DOT's 10 operating administrations through a $200M working capital fund.  These services included human resources, security, transportation services, printing and graphics, mail, facilities, occupational health and safety, environment and energy, and procurement and grants programs.  She was the Chief Human Capital Officer for a large geographically dispersed cabinet level agency, responsible for the design, management and improvement of human capital policies and programs for the DOT.  She provided executive leadership and direction in a complex and rapidly changing environment for a wide range of Human Capital policy development, planning, and operating activities, including succession planning, executive recruitment, staffing, performance, logistics and employee/labor relations.  She also provided contracting and grant policy which resulted in $5B in contract awards and $105B in grants administered, and was a senior member of the DOT Investment Review Board which reviews and approves all major IT projects.  She oversaw a $400M Federal Transit Benefit Program, which supports 110 agencies and over 270,000 Federal employees.  Ms. Washington managed over 400 staff and contractors to ensure services were provided for the 58,000 DOT employees.  One of her major accomplishments was the planning and relocation of DOT to its new 1.3M square feet headquarters building, the first constructed building with post 9-11 security requirements and energy saving design elements.
Ms. Washington served on the Board of the Local Federal Coordinating Committee (LFCC) for the Combined Federal Campaign of the National Capital Area (CFCNCA) for eight years and for four years, served as the Chair of the LFCC of the CFCNCA, which is the largest campaign within the CFC.  The Combined Federal Campaign (CFC) is the only authorized workplace charitable giving drive for employees in the Federal workplace and the largest workplace giving initiative in the world.  Under Ms. Washington's leadership, the CFCNCA broke fundraising records in 2009 and 2010, despite challenging economic times, with Federal employees pledging more than $66.5 million in 2009 and over $67 million in 2010 to support over 4,000 charities. Throughout the eight years she was with the CFC, pledges grew from $47 million in 2003 to $67 million in 2010 while maintaining a low overhead rate of 7%.  The CFC National Capital Area was recognized by the Office of Personnel Management with the Innovator Award for eight consecutive years.
Ms. Washington began her professional career managing a sales organization at Xerox Corporation where she was accountable for meeting business, customer service, and employee satisfaction goals.  She spent 12 years with Xerox Corporation holding various sales and marketing positions, the last of which was in management with Xerox Business Services and demonstrated skill at achieving customer satisfaction while meeting sales goals. While at Xerox, she earned both the President's Club Award and the Par Club Award in recognition of her overall performance, and the team she led won one of the highest Xerox awards, "Team Excellence".
Ms. Washington took her private sector expertise to the Federal government as Chief of the Photoduplication Service at the Library of Congress (LC) and guided a struggling fee for service operation from operating "in the red" to a fiscally sound organization in just one year.  As a result of her efforts and success, she was asked to manage the supporting infrastructure at the LC as the Director of Integrated Support Services to bring renewed focus to business results, customer satisfaction and accountability.  In addition, she was asked to develop the LC Internal University to provide training and development for employees to provide needed skills to better support the mission.  She formed a Training and Development Advisory Board to assess LC-wide training needs.  She initiated a culture change initiative and standardized collaborative approach (Facilitative Leadership) and trained all 6,000 employees to provide better problem solving and decision making tools.
Because of Ms. Washington's recognized extraordinary experience and expertise as a senior strategic leader, for a number of years the Commandant of the distinguished Eisenhower School of National Defense University chose her to serve as one of the Senior Distinguished Leaders that received the students' briefing for their proposed US National Security Strategy (a two-week exercise culminating the residential curriculum). Ms. Washington evaluated and provided recommendations to the students–who were in their mid-forties and proven leaders in the military, government, and industry.
In recognition of her leadership, expertise, accomplishments and exceptional public speaking skills, she is frequently asked to speak at conferences and special events both within the government and the private sector to share her management methodologies, experiences, and best practices.
Ms. Washington was honored by the Washington, DC Chapter of the Women's Transportation Seminar (WTS), as the recipient of their Diversity Award, in Recognition of Outstanding Leadership.  She was selected by the President of the United States as a recipient of the prestigious Presidential Rank Award for her leadership, professionalism and commitment to excellence in public service, and she was honored with the President's Volunteer Service Award.